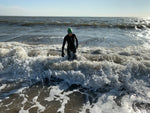 We've compiled some top skincare tips on how you can achieve and maintain healthy skin before and after open water swimming whilst helping to avoid skin problems.
Outdoor swimming has exploded over the last few years. We're lucky enough to be based near the beach and have witnessed this first-hand for ourselves, with many adventurous folk maintaining a daily dip all throughout the winter months.
According to a recent trends report by Outdoor Swimmer, more women have taken up open water swimming than men, with motivations that span physical and mental health and general well-being.What we absolutely love about the findings in this report is that it doesn't just mean more people getting active more frequently in the outdoors, but the report also states that becoming a swimmer pushes people to care more about the environment. 
We've worked as a race director and event manager across many open water swimming events, including triathlons for the last 15 years as well as being outdoor swimming enthusiasts, and it's through our experience and conversations with other open water swimmers of various abilities that we've developed our top skincare tips. 
The three most common types of skin damage that can occur while swimming in the open water are; 
Dry, itchy skin

Sun damage

Chafing 
Dry, itchy skin
Dry skin is very common amongst swimmers. Long-term immersion in either freshwater or saltwater has a drying impact and can weaken the skin's structure. According to scientific evidence, this is caused by the stripping of the natural protective skin sebum resulting in a loss of moisture.
Sebum contributes 90% of the lipids - fat molecules on the skins surface, it is these lipids that help to lock in moisture and protect the skin from UV rays and other damaging effects. 
The production of sebum, which contains many anti-inflammatory properties, is essential for the following;
Maintaining the homeostasis of the skin

Keeps moisture locked inside the skin, promoting skin hydration and elasticity. 

Acting as a barrier of defense against the outdoor elements. 
Sun Damage
With open water swimming comes more susceptibility to the outdoor elements and, in particular, the sun's harmful UV rays. But does swimming in open water increase your chance of getting sunburnt? Well, yes, but perhaps not for the reason we believe.
You may think that being in water increases your chances of getting sunburned because of reflection, but according to World Health Organisation research, water only reflects 10% of UV rays, the same as grass and soil. The chances are that it is down to other impact factors such as the following:
Any sunscreen applied is washed off gradually in the water.

The cooling effect of the water leaves you less aware of any symptoms of sunburn you may feel. 

If wearing only a swimsuit, more of your skin is exposed to UV rays with no or very little shade. And according to research sited in an article by SunSmart , up to 40% of the sun's UV rays can penetrate water to a depth of half a meter (water clarity dependent). 
Chafing
There are many causes to chafing whilst swimming which has been well documented amongst a number of articles including this one in Swimming World Magazine. 
Chafing is caused by a number of factors including stroke technique, sighting,types of swimming attire, concentration of salt in the water, water temperature, facial hair, length of time spent in the water, and body type. 
So now we know some of the most harmful impacts to the skin whilst swimming outdoors. How can you achieve and maintain healthy skin before and after swimming to minimize these impacts?  
Pre-Swim 
All the best skincare routines start from within, so stay well hydrated. The recommended guidelines in the UK are to drink 6-8 glasses (1.2 l) of water per day (general advice not taking into account body type, levels of exercise etc). Water keeps your skin hydrated and helps maintain its elasticity. 

Apply liberally a marine friendly water resistant sunscreen at least 20 minutes prior to jumping in the water. If you are in the water for a few hours, try and pat dry your skin between swims, reapplying the sunscreen every 50 minutes. This is also super important if you're swimming outdoors in the winter months. 

Apply a marine friendly anti-chafe cream to areas you suffer from chafing. This could be around the seams of a wetsuit where they sit next to your skin, or under your arms and between your thighs where your skin is more susceptible to rubbing together. 
We've listed below some of the best skin products products (tried & tested) that we stock and love to use when heading out for a swim. 
-Balmy Fox On the Water SPF 25 Lip Balm *
-Balmy Fox on the Water SPF25 Water Resistant Sun Protection*
-Balmy Fox on the Water Anti-Chaffe Cream *
*All products recommended are marine-friendly and swim gear friendly!
Post Swimming 
We repeat....drink lots of water, you'll be dehydrated from your physical activity so make sure you take a bottle of water with you. All the best skincare routines start from within. ;-P 
Rinse off your skin (and wetsuit!) with warm water as soon as you can. This will help to remove bacteria on your skin (& swim gear) that is naturally found in both fresh water and sea water. 
We noted earlier that any long term immersion in the open water can impact the skin's structure and notably the levels of sebum in the skin.
Using a naturally antibacterial soap with glycerin removes bacteria with the essential oils combating bacteria and the glycerin keeping your skin protected and moisturized after washing. 
Replenish the skin with natural moisturising creams and balms

Face; we would recommend Lyonsleaf Calendula & Marshmallow Balm, a little pot of wonder that

safely soothes, softens, repairs and improves skin's elasticity. Calendula contains powerful antioxidants and neutralizes free radicals. Whilst the marshmallow root extract has soothing properties, reducing inflammation and helps retain moisture in the skin.  Also good for sensitive skin. 

Body; ZeroWaste Citrus Solid Lotion with key ingredients of Almond Oil and Vitamin E - high in antioxidants and helps to relieve dry itchy skin. 
Hand & Feet; Balmy Fox On the Water Hand & Foot Repair Cream. This hand and foot repair cream contains natural Arnica and Tea Tree.  Arnica is known to relieve inflammation and tea tree for its natural antiseptic and anti-fungal properties.One of the best things about this repair cream is it works fast and can be applied to hands, feet, elbows and knees!
So there you have it, some of our top tips for maintaining healthy skin for Open Water Swimmers, let us know in the comments section what your top tips are for maintaining healthy skin pre and post your outdoor swimming adventures! 
Helpful Product Notes
All the products we sell and stock here at homemadeADVENTURES are totally natural meaning there are no harmful ingredients which can disrupt body systems, specifically the endocrine system:endocrine system. (the skin). This ultimately means they don't strip away the skin's natural protective barrier and ultimately moisture. 
To help make it easier to search for products according to your skin care needs when participating in outdoor adventures, we have categorized our products into outdoor activities, and we have a collection specifically for swimming. 
If you're looking for a swimmers gift then we have some eco-friendly gift boxes filled with some of our favourite natural skincare products. Perfect for a swimmers pre and post skincare routine. You can find them on our website HERE