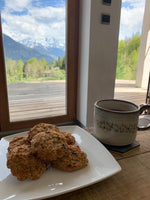 BAKED BANANA & OAT COOKIES
The Team at High Performance Dietitian are constantly testing out new recipes that help fuel outdoor adventures. 
We love these homemade cookies and they are super easy to make and don't require any flour or eggs. 
STORE CUPBOARD INGREDIENTS:
200g Oats (blitzed in a blender to form a 'flour') 4 bananas
1/4 teaspoon of salt
1/2 teaspoon of cinnamon
50g dark chocolate crushed
1 tablespoon of maple syrup or honey
LETS BAKE:
 Preheat the oven to 190c and line a baking sheet with baking paper.

 Mix all dry ingredients together.

 Mash the bananas and add them to the dry ingredients.

 Add the maple syrup and stir in well until all ingredients are combined.

 Scoop out the mixture using a spoon into rounds on the baking sheet.

 Bake for ~20-25 minutes until golden brown on top.

 Remove cookies from oven and place on a cooling rack.
>> Best eaten cool (if you can wait that long...!)
We tested them out on a hike recently and they are pretty durable and did the trick of a quick boost of energy on the trails. But taste good anytime. 
These are great for a snack before, during or after your run, hike or ride outside or your indoor climb training, turbo sessions, resistance training. 

Additional extras:
These are so versatile you can mix up the ingredients to your preference.
use almond flour, coconut flour or white flour
honey
whey protein
seeds
crushed nuts
dried fruit
nutmeg/mixed spices/vanilla extract